MAP WALL DECALS, KIDS WALL STICKERS, WALL DECOR
Map of the world for kids room decor
Wall decals removable high quality vinyl stickers 
Upgrade your living space with one of these stunning, high definition quality vinyl decals. Give yourself a room with view of your choice with some instant wall art.
Ultimate solution for budget-savvy design enthusiasts looking to add a personalized and colorful touch to their space. The stickers are so easy to apply and remove! Ideal for renters, tenants, roommates, and homeowners alike - the Mi Alma peel & stick tile decals make it easy and affordable to turn a house into a home.
Our talented graphic designers gather their inspiration from up and coming trends to create the unique designs of our highly durable Mi Alma stickers
The Decals are ready to be easily applied on any clean & smooth surface. They are waterproof and heat resistant, so you can add color and liveliness to your Living room, Bedroom, Kids room, bathroom, dining room, washing room, Kitchen or any other smooth surface like wood, ceramic, plastic, glass, metal, plastic, ceiling, mirrors, walls, (with the exception of floors).
.
Easy to Apply, Easy to Remove, Suitable for Kitchens + Fireplaces
(Heat Resistant up to 122F/50 C)
Suitable for Bathrooms Suitable for Bathrooms (Fully Waterproof)
Perfect On Multiple Surfaces
Available sizes:
Please measure the length and width of the surface you are looking to cover.
Each Sticker is available in different sizes, once you have the measurements, check out the different sizes we offer here to determine which tiles are best for you.
If you're looking for a custom size, please send us a message and we'll do our best to accommodate your needs.
 Available Sizes and Measurements: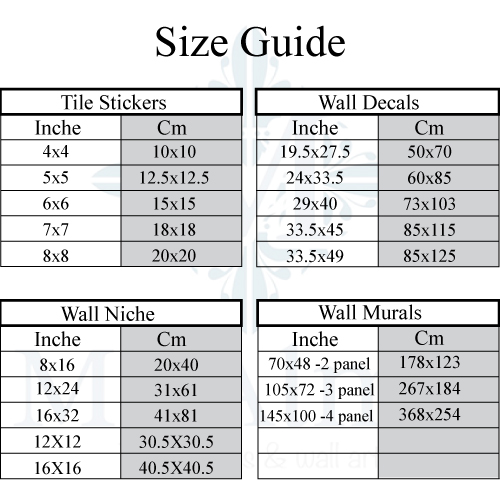 Easy As 1-2-3:
1. Peel sticker
Before you begin the installation, ensure the application surface is clean by wiping with a damp cloth and wait until it is fully dry.
2. Position the Sticker
Position the sticker in the place you'd like it, apply sticker onto the desired surface.
3. Remove any air bubbles
Gently move your hand over the sticker in an outer motion to remove any air bubbles.
If you would like a different size please contact us here


Sale price

$21.89

Regular price

Unit price

/

per
Dimensions
Number of Tiles (Stickers) Per Pack: 24
Dimensions: Each tile arrives as an individual sticker and is available in different sizes.
Please refer to each product for exact dimensions.
Plan your project accordingly and customize it to suit your needs. Start by measuring the surface you want to cover and then arrange you can cut the tiles to fit. You can use well-sharpened scissors, a box cutter, a hobby knife, or any similar cutting tool.
Care Instructions
When it becomes necessary to clean the tiles, use a wet cloth or sponge.
To keep your tiles looking good for a long time, avoid using abrasive chemicals or scrubbing.
Share

Link copied to clipboard!